Boost Pressures of N2 & CO2 for Beverage Producers
Product Announcement from MAXPRO Technologies, Inc.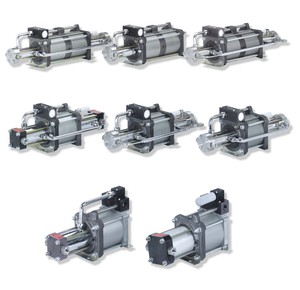 Maximator gas boosters will compress gases such as nitrogen and argon up to 21,750 psi, while oxygen can be compressed up to 5,000 psi using special seals and cleaning procedures. A wide variety of other gases can be compressed including hydrogen, natural gas, ethylene, nitrous oxide, neon, carbon dioxide, carbon monoxide and breathing air. Consult MAXPRO for special seals, venting, or cleaning requirements for these gases.
In applications where high output pressures are required and the gas supply pressure is low, Maximator gas boosters can be operated in series. MAXPRO supplies these booster combinations in 2, 3 or 4 stage arrangements as complete packages. To achieve higher gas flows, two or more boosters can work in parallel as a unit. Consult MAXPRO for more information on these special applications.
Features
Pressures to 21,750 psi for most gases and 5,000 psi for oxygen
Easy to install and operate
Compact, lightweight design
Single or double acting and two stage models
Double air head available in single and two stage boosters
No electrical power required
Requires no lubrication
Boosters are contaminant free
Units can be operated in series or parallel
Variety of pressure and compression ratios available
Applications
Low pressure gas reclaim from storage bottles
Oxygen boosting
Gas pressure and leak testing
Charging of accumulators
Boosting gas pressures from nitrogen or Oxygen generators
Nitrogen injection for molding machines
Breathing air systems for scuba and fire department tanks
Leak detection systems
Low pressure autoclaving
Typical Gases - air, nitrogen, helium, oxygen,carbon dioxide, nitrous oxide, neon, argon, hydrogen, carbon monoxide, methane, ethylene and natural gas
You have successfully added from to your part list.
---