Product Announcement from MAZeT GmbH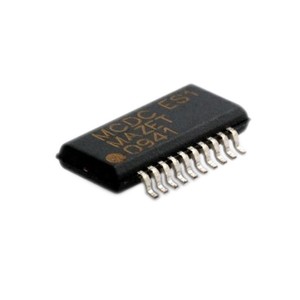 The MCDC04AQ is a low power and low noise sensor interface ASSP and suitable for coupling of multi channel optical sensors or sensors using current output. It converts input currents of photodiodes (both polarities) to a digital output and realizes a continuous or triggered measurement via current integration. The integration time and sensitivity can be controlled by external programming. The four signal channels convert directly and simultaneously input currents to digital representation of their measured average.
The channels may be divided into three signal channels and one dummy channel for compensation of parasitic currents. This device is especially suitable for signal conditioning of photodiodes of array sensors like color or line sensors. A configurable conversion gain factor and integration time support a dynamic range of 1 to 1 000 000 and achieves an accuracy of up to 16 bit signal resolution with sensitivity up to 20 fA/LSB. The internal reference generations offers a high reliability. The sensor ASSP also includes an inherited ripple rejection of the 50 Hz / 60 Hz external disturbances and is specially designed to accommodate high accuracy at high sensitivity offering high robustness.

Automatic power down (sleep function) between subsequent measurements offers operation with very low current consumption. Further, it offers a wide range of reference currents (1.25 nA to 5 μA), integration times (1 ms to 1 s) and control modes by user programming. The conversion data can be accessed via I²C serial interface (16 bit / 400 kHz fast I²C Interface with programmable slave addresses). Measurement of actual integration time for a full triggered measurement can be performed.

In summary the MCDC04AQ is suitable as amplifier and/or analog to digital converter for multi-channel sensors with current output: The sensor ASSP achieves a high dynamic range especially in light applications and in measurements of integral intensity of pulsed light. It can be used as current to digital converter for exposure meter with a high sensitivity. The device was also designed for extended conditions like extended temperature and very low current consumption in active and in power down mode. Those conditions offer a flexible and wide-range of potential applications e.g. from inline-control up to handheld applications.
MAZeT GmbH is a leading provider of Electronic Design and Manufacturing Services. We are specialized in the development of customer- and application-specific integrated circuits and embedded systems, while utilizing modern technologies. LED light regulation, color measurement or metrology tasks are application examples for our JENCOLOR spectral- & color sensor solutions.
Our target markets are the medical engineering, automation engineering and industrial metrology.
Flexibility and innovative strength in responding to our customers' needs, along with a defined commitment to quality, delivery reliability, service, and partner transparency have provided the platform for continuously and successfully developing business since the year of our foundation 1992.
"The satisfaction of our customers and mutual economic success of all partners are the main goals of our business."
MAZeT offers products for specific applications in the field of measurement, control and automation engineering - like customized ICS, sensors and components. Our products comply with known standards and are available as OEM units for customer system integration. MAZeT products are known for high quality manufacturing standards.
Our system. Your success.
Together with our partners we meet technical, quality and delivery time requirements. Satisfied and successful customers are our best reference and the basis for long-term business relations.
Contact Us : have questions about our products and services?
"The satisfaction of our customers and mutual economic success of all partners are the main goals of our business."
You have successfully added from to your part list.
---