Product Announcement from Standex-Meder Electronics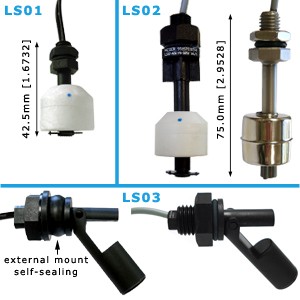 MEDER electronic offers three compact Liquid Level Sensor Series called LS01, LS02 and LS03 which are more reliable than mechanical switches and more cost effective than Hall Effect sensors. The LS01 and LS02 are vertically mounted while the LS03 is horizontally mounted and can be reverse mounted for Form B normally closed operation.
The LS01 LS02 & LS03 Series Liquid Level Sensors are all made from corrosion-resistant, low cost materials and feature built-in magnetic floats which activate reed switches when the liquid level rises or falls, as desired, and then provides an output signal. The LS02 Series is also offered in a stainless steel version, capable of withstanding temperatures up to 120°C and harsh chemicals when paired with a stainless steel float.
Three versions of LS03 Series have been introduced into the market to meet the wider demands of our customer's more specialized application needs. Thus far, the LS03 Level Sensors were only capable of mounting to the inside of the liquid container or reservoir. The demand for level sensors which can be externally mounted has progressed as more and more sophisticated devices are being developed such as in modern air conditioners, cooling devices, high-pressure cleaners and many other technologically advanced household appliances. Moreover, external mounting also allows manufacturers the flexibility of quick and low cost level sensor repair or replacement.
LS03/DL: Material-PA or PP | Thread-Metric M16 x 2.0 | Insertion hole- Dia. 22-24mm | Wide Seal-12mm | Low Pressure Filling | Wall thickness-Max. 5mm
LS03/DK: Material-PA or PP | Thread-Metric M16 x 2.0 | Insertion hole- Dia. 22mm | Narrow Seal-5mm | High Pressure Filling | Wall thickness-Min. 4mm
LS03/GZ: Material-PA only | Thread-Tapered 1/2" | Insertion hole- Dia. 1/2" | Self Sealing-Tapered thread
The DL version, developed for the European market, is used with thin walled containers and handles low pressure filling while the DK version with its robuts construction can handle higher filling pressures up to at least 10bar. The GZ version, used in American markets, is self-sealing as a result of its tapered thread therefore is has a lower cost as compared to the DL and DK models.
Requiring no external power, the magnetically operated hermetically sealed proximity sensors can be remotely placed to isolate the reed switch electrically >1,000 VDC and mechanically, away from fluids.
Available in a variety of switching configurations, the LS01 and LS02 Series can also be paired up with a various magnetic float materials depending on the liquid application requirements:
LS01, LS02 & LS03 -PP (Polypropylene) for water or water-based applications and dilute acids, non-aggressive liquids and solvents, such as cleaners, gasoline and alcohols.
LS01, LS02 & LS03 -PA (Polyamide) for use in oil, gasoline (petrol) and brake fluid.
LS01 & LS02 -NBR (Nitrile Butadiene Rubber) for use in oil, all kinds of fuels, brake fluid, features higher temperature and higher buoyancy than PP and PA.
LS02 only -SS (V2A Stainless Steel) for use in drinking water, oil, greases, lubricants, anti-freeze, brake fluid, diesel fuel, power steering fluid, petroleum-based solvents, gasoline, kerosene, water, water-based cleaning solutions, or other non-aggressive fluids.
The standard termination is a PVC cable with a cross section of 0.14 mm2 and a length of 500 mm. The cable can be modified on request.
Features
Stainless Steel (LS02) version for high temperatures up to 120°C
Removable tank monitoring
Hermetically sealed
Dynamically tested contacts
Compact level sensor design
Low cost compared to Hall Effect
Millions of reliable operations
Various switching configurations
Specifications
Contact Form 1A, 1B
Rated Power (W) 0 to 100
Switching Voltage (VDC) 0 to 400
Switching Current (A) 0 to 1.5
Carry Current (A) 0 to 2.5
Breakdown Voltage (Minimum VDC) 100 to 700
You have successfully added from to your part list.
---