FIREX™ Fire Protection Coating Supplier
Service Detail from MINTEQ® International Inc, Pyrogenics Group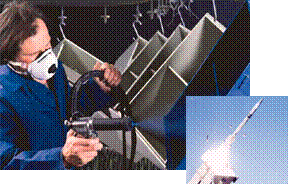 With over 30 years of applications experience, Impreglon Inc. is the preferred applications supplier of MINTEQ's FIREX™ intumescence coatings.
With our FIREX™ experience, we can meet even the most exacting military standards to ensure these coatings provide their proven thermal protection performance.
Our 65,000 sq. ft. state-of-the-art facility and experienced staff, can apply coatings by manual spray or with precision robotic equipment on virtually any size piece.
FIREX™ coatings have been utilized in numerous applications requiring fire and thermal protection. Those applications include ships, tanks, military vehicles, shelters, aircraft, and space vehicles and are especially protective in a jet fuel environment. Now they are available for chemical, oil and gas, and other applications
Impreglon Inc. has a rich history of working closely with MINTEQ in developing existing and new fire protection coating applications. Our most recent FIREX™ experience includes applying the coating to hundreds of missile launcher systems for the US Navy.
Impreglon Inc. stands ready to support FIREX™ customers, whether it's for quick turnaround sample test parts, or large scale production runs.
---