Graphite Heat Spreader...Lightweight Options
Product Announcement from MINTEQ® International Inc, Pyrogenics Group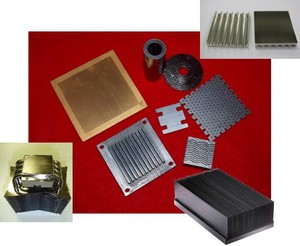 MINTEQ® Pyroid® HT Pyrolytic Graphite metallized thermal spreaders offers lightweight (2.25 g/cc) spreader options with "diamond like" thermal performance without the "diamond price".
Pyroid® HT Pyrolytic Graphite thermal spreader and sinks offers engineers lightweight (only 25% of the weight of copper) thermal management options with exceptional performance.
Pyroid® HT matches the thermal performance of CVD diamond at 1700 W/mK and substantially better economics. Available in sheet form up to 300 mm square and any thicknesses ranging from 0.25 mm to 1.3 mm, this material is ideal for high-volume production and provides economic value at the device assembly level.
Thermal Conduction Comparison
> 4 times Copper
> 8 times Aluminum
Benefits of PYROID HT:
Higher strength than alternative graphitic materials
High thermal conduction.
Exceptionally consistent quality and performance
Resulting in:
Significant thermal flux spreading without the need for expensive thermal vias
Increased component reliability
Significant weight savings
Lowered component and system costs
Ideal for thermal spreader applications such as high heat flux semiconductor power electronics found in RF and MW, LEDs, laser diodes, wide gap semiconductors, power amps, integrated circuit lids to name a few.
---