Pyroid® HT Pyrolytic Graphite Heat Spreaders
Product Announcement from MINTEQ® International Inc, Pyrogenics Group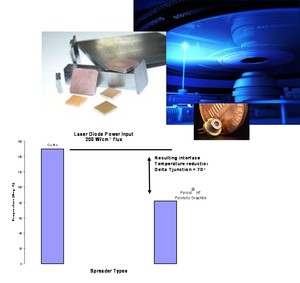 PYROID® HT Pyrolytic Graphite metallized heat spreaders
Recent test results indicate laser diodes are able to increase their output by more than 50% due junction temperature improvements with Pyroid® HT heat spreader.
Pyroid ® HT Pyrolytic Graphite metallized thermal spreaders offers lightweight (2.25 g/cc) spreader options with "diamond like" thermal performance without the "diamond price".
A recent laser diode study was completed with a heat flux 200 W/cm2 comparing a traditional CuMo heat spreader with a new Pyroid ® HT Pyrolytic Graphite heat spreader. The heat flux was removed by a conventional copper heat sink maintaining a temperature of 30 o C .
The resultant measured temperature profiles between the two spreaders formed the boundary conditions for a finite control volume computational grid with laser diode attached to the heat spreader end. The junction temperature of the Pyroid heat sink was reduced by 70o C providing a significant improvement in reliability for the laser diode.
In addition, further analysis indicates that for a given interface temperature, the laser diode can effectively achieve greater than 50% more power thus opening up a significant opportunity for enhanced diode performance in more applications.
Further review indicates that Pyroid ® HT Pyrolytic Graphite material offers an order of magnitude lower stress level than when combined with silicon die than does diamond or copper.
• Pyroid ® HT Pyrolytic Graphite thermal performance matches diamond's performance at 1700 W/mK.
• Available in sheet form and varying thickness up to 30 cm square and any thicknesses ranging from 0.25 mm to 1.3 mm, this material is ideal for high-volume production and provides economic value at the device assembly level.
Thermal Conduction Comparison
> 4 times Copper and Natural Graphite
> 5 times AIN and BeO
A Powerful New Weapon in the Battle Against Thermal Heat in State of the Art Electronic Circuits and Devices
Benefits of PYROID HT:
Higher strength than alternative graphitic materials
High thermal conduction.
Exceptionally consistent quality and performance
Resulting in:
Significant thermal flux spreading without the need for expensive thermal vias
Increased component reliability
Significant weight savings
Lowered component and system costs
We solve customer's material problems in a variety of industries including aerospace, defense, military, electronics, medical device, and power generation.
Call or email for details.
---