Thermal Management Solutions -Electronics Industry
Product Announcement from MINTEQ® International Inc, Pyrogenics Group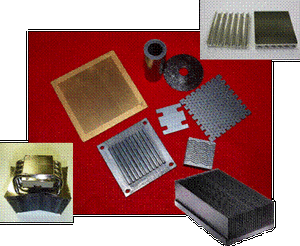 PYROID® HT Pyrolytic Graphite thermal spreaders and heat sink material
Minteq Pyrogenics Group powerful new weapon in the battle against thermal heat in state of the art electronic circuits and devices
PYROID HT Pyrolytic Graphite thermal spreader and heat sink material offers design engineers lightweight (only 25% of the weight of copper) thermal management options with exceptional performance.
PYROID HT matches the thermal performance of CVD diamond at 1700 W/mK and substantially better economics. Available in sheet form and varying thicknesses dimensions. This material is ideal for high-volume production and provides economic value at the device assembly level.
Thermal Conduction Comparison
GREATER THAN 4 TIMES COPPER
GREATER THAN 7 TIMES ALUMINUM
Our new processing steps offer near isotropic "diamond like" conduction without the "diamond" price tag making this material ideal for pulling heat out of devices while simultaneoulsy spreading it away from the heat source.
And with our ability to provide metallized coatings, we offer the opportunity for direct attachments of your device through conventional solder types.
Benefits of PYROID HT:
Higher strength than alternative graphitic materials
High thermal conduction.
Exceptionally consistent quality and performance
Resulting in:
Significant thermal flux spreading without the need for expensive thermal vias
Increased component reliability
Significant weight savings
Lowered component and system costs
Now you can finally get a handle on thermal issues resulting from high heat flux semiconductor power electronics found in RF and MW, LEDs, laser diodes, wide gap semiconductors, power amps, integrated circuits.
What about hot spots?
For hot spot issues, our HT standard spreader material offers maximize normal component of thermal conductivity at a cost effective solution without the need for special vias.
We solve customer's material problems in a variety of industries including aerospace, defense, military, electronics, medical device, and power generation. The Pyrogenics Group offers expert CNC machining and full analytical quality control to support your needs.

Play Thermal Management Solutions -Electronics Industry Video
---