Product Announcement from MINTEQ® International Inc, Pyrogenics Group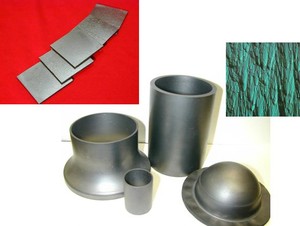 Minteq Pyrogenics Group PYROID® Pyrolytic Graphite (PG) product portfolio is "five-nine" pure made via chemical vapor deposition (CVD). The unique carbon structure originates from graphene and offers unique thermal, electrical and chemical properties. The material is very light weight, solid crystal composition, with no granular components and capable of withstanding temperature extremes.
Our material is anisotropic, meaning it conducts heat and electricity in the x-y plane like copper but acts like a ceramic in the normal z direction. In an annealed state, the thermal and conduction properties increase up to four to eight times that of aluminum and copper respectively. The material has zero porosity making it extremely stable in corrosive environments including fluorine based atmospheres.
The Pyrogenics Group provides PYROID® PG in:
• Diameters up to 24 in. (60 cm) • Thickness up to 1 in. (2.5 cm) • Free standing as deposited shapes including tubes, domes, rods, plates cones, and other intricate geometries • Powder form
We also provide controlled CNC machining service for all parts.
Design benefits:
•Lowest erosion rate material known for non-oxidizing plasma environments • Doesn't melt or degas • Stable at high temperature and vacuums • Non wetting • Lightweight, high strength, bio and blood compatible • Diamagnetic properties enhance medical imaging • Self lubricating • Extremely resistant to thermal shock • Temperature tolerant from cryogenic to > 3000° C.
Application areas:
• Thermal management (lids, heat sinks, heat pipes, electrodes, susceptors) • Ion implantation equipment (grids, targets, crucibles, fixtures, stripper foil) • Glass manufacturing ( tooling, dies, fixtures) • Biocompatible inserts (pins, screws, plates, shims) • Chemical corrosives (tray support, column liners, tubes, plates, nozzles) • Ultra high vacuum (trays, fixtures, insulation packs, sealing rings)
PYROID® PG powder offers exceptional oxidation resistance over conventional graphite mold release agents and lubricants, offering excellent wear properties along with chemical inertness. This can translate to higher operating temperatures with higher yields, leading to increased productivity in certain metal and mold applications.
We solve customer's material problems in a variety of industries including aerospace, defense, military, electronics, medical device, and power generation to name a few. In fact, our material is used in just about every industry facing problem applications resulting from excessively high temperature, stress, corrosion, and friction, requiring a lightweight material solution.
You have successfully added from to your part list.
---