Pyrolytic Graphite
Product Announcement from MINTEQ® International Inc, Pyrogenics Group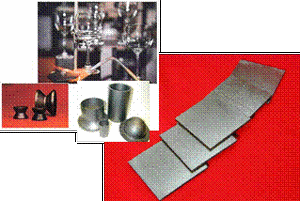 Why not use the conisistency and exceptional performance of Pyroid Pyrolytic Graphite for your application?
MINTEQ's Pyrogenics Group has an unprecedented opportunity for users looking to solve thermal issues with small piece (< 80 mm) pyrolytic graphite material. This inventory has to go and there's never been a better time to get large volumes at low prices.
The Pyrogenics Group is the largest supplier of PYROID® pyrolytic graphite. Our material is a very light weight, 5'9's pure, solid crystal composition, with no granular components and capable of withstanding temperature extremes from cryogenic to greater than 2000 °C.
This non-wetting material conducts heat and electricity in the x-y plane like copper, but acts like a ceramic in the normal direction. It offers exceptional physical strength that actually increases with temperature.
Available in various small plate and part sizes that are ideal for:
• Tooling • Fixtures • Nozzles • Tubes • Cups and Crucibles • Covers • Rings • Seals • Targets • Planchets
We solve customer's material problems in a variety of industries including aerospace, defense, military, electronics, medical device, and power generation. Our material is used in just about every industry facing problem applications resulting from excessively high temperature, stress, corrosion, and friction, requiring a lightweight material solution.
The Pyrogenics Group offers expert CNC machining and full analytical quality control to support your needs.
---