Product Announcement from MISUMI USA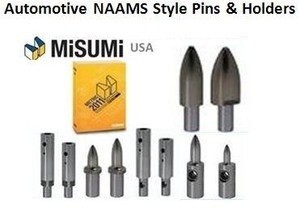 NAAMS Style Locating Pins & Holders announcing 6 new additions rom Misumi
These six new product styles are fully configurable and designed to meet the stringent requirements of automotive OEMs and their top tier suppliers [design that aligns with North American Automotive Manufacturing Society Standards (NAAMS)].
Additionally view our extensive line of products,technical articles and case studies relating the Automotive industry...
Quick Links:
Case Studies and Techncial Articles:

Case study: Shiroki North America is a premier manufacturer of automobile seat tracks and adjusters, window regulators, doorframes and door sashes, which are sold to automotive OEMs and their top tier suppliers including Toyota Engineering and Manufacturing, Nissan, Mitsubishi, and others.
Salem Design primarily works with Tier II and Tier III suppliers to the automotive industry. In a challenging economy and competitive market this OEM has learned how to decrease the cost of its machine design and build costs.

Do you have a specific Automotive requirement or need pricing? Email us here and let us know - we can configure a solution designed to your needs..
The back of the Pins and Holders measures a standard 16mm in diameter and 24mm in length, to match NAAMS pin design. Depending on the style selected, the head diameter of the automotive style pins range from 6mm to 32mm, configurable in 0.1mm increments, with maximum head working length of 30mm. The pin holders range in height from 42mm to 170mm, and are configurable in 1mm increments.
Other users of these new locating components are expected to include machinery and equipment builders, as well as assembly system designers and integrators, across a diverse range of industries.
Specific product data sheets and additional information from our extensive line of Automation Components line of products:
Linear Motion
Slide Packs, V Guides, Linear Rails
Other Linear Motion Related Components
Locating, Positioning, Jigs & Fixtures
Other Locating Related Components
Sensors, Switches
Inspection
Automotive Inspection Components
Heaters, Temperature Control
Pneumatics, Hydraulics
Filters, Regulators, Lubricators
Manual-Type Valves, Mechanical-Type Valves
Hydraulic Devices, Hydraulic Pumps
Cylinder Connecting Components
Pipe, Tubes, Hoses & Fittings
Steel Pipes, Copper Pipes, Stainless Steel Pipes
Fittings for Copper, Steel and Stainless Steel Pipes
Rotary Motion
Other Bearing Related Components
Cam Followers, Roller Followers
Rotary Power Transmission
Keyless Bushing (Fastening Fittings)
Conveyors & Material Handling
Springs, Shock Absorbers
Urethane, Rubber, Sponge, Felt
Antivibration, Soundproofing Materials, Safety Products
Wires, Chains, Metal Fittings, Small Work Pieces
Industrial Materials
Aluminum Extrusions, Pipe Frames
Aluminum Extrusion and Brackets
Accessories for Aluminum Extrusions
Extrusion Kits and Mesh Fences
Casters, Leveling Mounts, Posts, Cover Panels
Angle Plates, Gussets and Standoffs
Doors, Cabinet Hardware
Adjusting, Fastening, Magnets
Retaining Rings, Pins, Machine Keys
You have successfully added from to your part list.
---