NEW Rolled Ball Screw Compact Nut Series
Product Announcement from MISUMI USA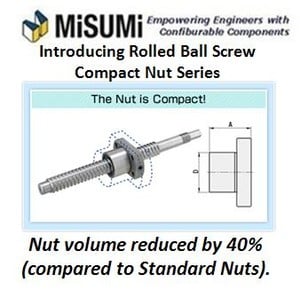 Rolled Ball Screw Compact Nut Series avaiable from MiSUMi USA.
Nut volume reduced by 40% (compared to Standard Nuts) - helps in low profile linear motion system designs.
Quick Links:
ROLLED BALL SCRES COMPANCT NUT SERIES IS NOW AVAILABLE! Easy to buy with 11% lower price (compared to Standard Ball Scres Nut) - Check it out...
Catalog links:
About MISUMI USA:
MISUMI helps engineers take the guess work out of design with most products offering standard manufacturing times of 6 days or less and a 99.97% on-time delivery rating on all its products. In addition, MISUMI offers a helpful web site that allows engineers to download native CAD files as well as place orders for its entire product offering.
Specific product data sheets and additional information from our extensive line of Automation Components line of products:
Linear Motion
Slide Packs, V Guides, Linear Rails
Other Linear Motion Related Components
Locating, Positioning, Jigs & Fixtures
Other Locating Related Components
Sensors, Switches
Inspection
Automotive Inspection Components
Heaters, Temperature Control
Pneumatics, Hydraulics
Filters, Regulators, Lubricators
Manual-Type Valves, Mechanical-Type Valves
Hydraulic Devices, Hydraulic Pumps
Cylinder Connecting Components
Pipe, Tubes, Hoses & Fittings
Steel Pipes, Copper Pipes, Stainless Steel Pipes
Fittings for Copper, Steel and Stainless Steel Pipes
Rotary Motion
Other Bearing Related Components
Cam Followers, Roller Followers
Rotary Power Transmission
Keyless Bushing (Fastening Fittings)
Conveyors & Material Handling
Springs, Shock Absorbers
Urethane, Rubber, Sponge, Felt
Antivibration, Soundproofing Materials, Safety Products
Wires, Chains, Metal Fittings, Small Work Pieces
Industrial Materials
Aluminum Extrusions, Pipe Frames
Aluminum Extrusion and Brackets
Accessories for Aluminum Extrusions
Extrusion Kits and Mesh Fences
Casters, Leveling Mounts, Posts, Cover Panels
Angle Plates, Gussets and Standoffs
Doors, Cabinet Hardware
Adjusting, Fastening, Magnets
Retaining Rings, Pins, Machine Keys
You have successfully added from to your part list.
---