Either Ka-band to L-band or L-band to Ka-band
Product Announcement from MITEQ, Inc.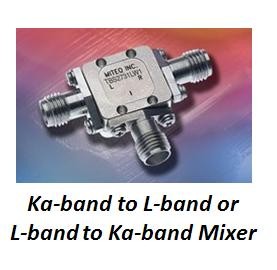 From MITEQ: Ka-band to L-band or L-band to Ka-band Mixer
This mixer has superb conversion loss and VSWRs as well as excellent spurious response and outstanding LO isolations. This device meets rugged environmental MIL specs, operates over a -54 to +85°C temperature range and is ideal for rugged Military and Commercial system applications. MITEQ is offering a new line of mixers designed specifically for Satellite applications. The TBS2731LW1 is ideally suited for converting from L-band to Ka-band or Ka-band to L-band.
Quick Links:
MITEQ, an acronym for (M)icrowave (I)nformation (T)ransmission (EQ)uipment, designs and manufactures a complete line of high-performance components and subsystems for the microwave electronics community. Located on Long Island, New York for more than thirty-eight years, it has grown into a company which is dedicated to achieving technical excellence, producing quality products and satisfying our customer's specific needs.
Custom Design Capabilities - Since 1969, MITEQ the pioneers in Amplifier development, have been customizing to our customers specific requirements. Whatever your amplifier requirements are, most likely we have built it.
RF/Microwave Components - MITEQ is a recognized leader in the advanced development of RF and microwave products and sub-systems for both military and commercial applications. Our component solutions are backed by MITEQ's 3-Year Warranty and most are available as RoHs Compliant components. MITEQ also maintains dedicated engineering resources to modify our standard designs in support of custom-generated specifications.
Active Components:
Passive Components:
RF/Microwave Assemblies - The bulk of MITEQ's business is in customized components, assemblies, sub-systems, systems, multi-function assemblies and Integrated Microwave Assemblies designed specifically around the customer's needs.
SATCOM Installations All Over The World.
Since 1969, and thousands of installations worldwide, MITEQ is a proven and recognized leader in theTelecommunications Industry.
Serving both the Military and Commercial Markets, MITEQ designs and manufactures standard and customized satellite communication equipment.
MITEQ's SATCOM product line includes:
You have successfully added from to your part list.
---