Product Announcement from MITEQ, Inc.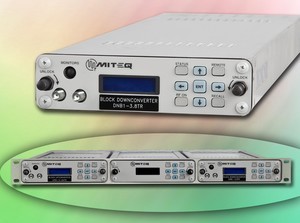 New from MITEQ Satcom Products: Ultimate Performance and Space Savings… only with MITEQ's 1/3 Rack Up- and Downconverters!
These up and downconverters offer excellent phase noise and low intermodulation, Gain: 30 dB upconverters / 35 dB downconverters and 30 dB of gain control. Available with a host of options these patented space saving units are easily configured to create redundancy systems in 1RU height. MITEQ's unique 1/3 Rack, 1U high converters are now available in L-, S-, C-, X-, Ku- and Ka-bands.
Quick Links:
Learn more about our 1/3 Rack Up- and Downconverters
Combined with MITEQ's additional 1/3 Rack products: Test Translators, Slope Equalizers, Redundant Switchover Units, Amplifiers, Block Converters, Fiber Optic Transmitters and Receivers, and now you can configure your entire up- and downlink chain, including the Fiber Optic RF antenna interface in 1/3 the Rack space.
SATCOM Installations All Over The World.
Since 1969, and thousands of installations worldwide, MITEQ is a proven and recognized leader in theTelecommunications Industry.
Serving both the Military and Commercial Markets, MITEQ designs and manufactures standard and customized satellite communication equipment.
MITEQ's SATCOM product line includes:
MITEQ, an acronym for (M)icrowave (I)nformation (T)ransmission (EQ)uipment, designs and manufactures a complete line of high-performance components and subsystems for the microwave electronics community. Located on Long Island, New York for more than thirty-eight years, it has grown into a company which is dedicated to achieving technical excellence, producing quality products and satisfying our customer's specific needs.
RF/Microwave Components - MITEQ is a recognized leader in the advanced development of RF and microwave products and sub-systems for both military and commercial applications. Our component solutions are backed by MITEQ's 3-Year Warranty and most are available as RoHs Compliant components. MITEQ also maintains dedicated engineering resources to modify our standard designs in support of custom-generated specifications.
RF/Microwave Assemblies - The bulk of MITEQ's business is in customized components, assemblies, sub-systems, systems, multi-function assemblies and Integrated Microwave Assemblies designed specifically around the customer's needs.
You have successfully added from to your part list.
---