Product Announcement from MITEQ, Inc.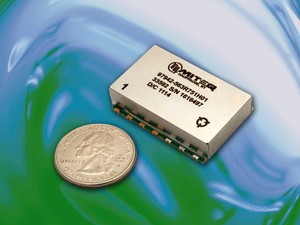 New SLSM Series Surface Mount Phase-locked Oscillators and Synthesizers from MITEQ.
Surface Mount Phase-locked Oscillators and Synthesizers offer fixed frequency synthesized outputs from 100 MHz through 14 GHz available in up to 1 octave bandwidth. Unit can be customized to operate on any DC supply from 5-15 volts DC.
Quick links:
Integer reference multiple fixed output models can produce lowest industry noise utilizing analog lock technology. Synthesized models can be interfaced directly to PLL device or buffered and frequency decoded. Mechanical package size is 1.5" x 1.0" x 0.33", 14 pin SMT and is designed for lowest mechanical G sensitivity.
MITEQ, an acronym for (M)icrowave (I)nformation (T)ransmission (EQ)uipment, designs and manufactures a complete line of high-performance components and subsystems for the microwave electronics community. Located on Long Island, New York for more than thirty-eight years, it has grown into a company which is dedicated to achieving technical excellence, producing quality products and satisfying our customer's specific needs.
RF/Microwave Components - MITEQ is a recognized leader in the advanced development of RF and microwave products and sub-systems for both military and commercial applications. Our component solutions are backed by MITEQ's 3-Year Warranty and most are available as RoHs Compliant components. MITEQ also maintains dedicated engineering resources to modify our standard designs in support of custom-generated specifications.
RF/Microwave Assemblies - The bulk of MITEQ's business is in customized components, assemblies, sub-systems, systems, multi-function assemblies and Integrated Microwave Assemblies designed specifically around the customer's needs.
MITEQ's SATCOM product line includes:
You have successfully added from to your part list.
---