Product Announcement from MITEQ, Inc.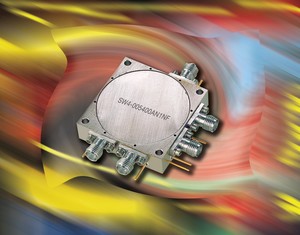 Ultra-Broadband Single Pole Four Throw Switch from MITEQ.
MITEQ's ultra-broadband Single Pole Four Throw Switch, Model SW4-005400AN1NF, offers a wide frequency range of 0.5 to 40 GHz.
Quick Links:
This absorptive 40 GHz terminated switch has an insertion loss of only 7.5 dB maximum with an isolation of 60 dB minimum. This small ultra-compact wide band switch housing is available in both hermetic or non-hermetic packaging.
About MITEQ:
MITEQ, an acronym for (M)icrowave (I)nformation (T)ransmission (EQ)uipment, designs and manufactures a complete line of high-performance components and subsystems for the microwave electronics community. Located on Long Island, New York for more than thirty-eight years, it has grown into a company which is dedicated to achieving technical excellence, producing quality products and satisfying our customer's specific needs.
Standard Product Lines
Custom Design Capabilities - Since 1969, MITEQ the pioneers in Amplifier development, have been customizing to our customers specific requirements. Whatever your amplifier requirements are, most likely we have built it.
RF/Microwave Components - MITEQ is a recognized leader in the advanced development of RF and microwave products and sub-systems for both military and commercial applications. Our component solutions are backed by MITEQ's 3-Year Warranty and most are available as RoHs Compliant components. MITEQ also maintains dedicated engineering resources to modify our standard designs in support of custom-generated specifications.
Active Components:

Amplifiers
Attenuators
Bias-Tee
Converters
Fiber Optic Links
Frequency Discriminators
Frequency Synthesizers
Mixers
Modulators
Multipliers
Oscillators
Phase Shifters
Pin Diode Switches

Passive Components:

Coaxial Terminations
DC-Block
Directional Couplers
Hybrid Couplers
Diode Limiters
Mixers
Multipliers
Power Dividers & Combiners
RF/Microwave Assemblies - The bulk of MITEQ's business is in customized components, assemblies, sub-systems, systems, multi-function assemblies and Integrated Microwave Assemblies designed specifically around the customer's needs.
Amplifier Assemblies
Converter Assemblies
Switch Assemblies
Receiver Assemblies
Log, Limiter, Discriminator
Multiplexers
Monopulse Detectors
Reflectometers
Levelers
About Miteq SATCOM products:
SATCOM Installations All Over The World.
Since 1969, and thousands of installations worldwide, MITEQ is a proven and recognized leader in the Telecommunications Industry.
Serving both the Military and Commercial Markets, MITEQ designs and manufactures standard and customized satellite communication equipment.
MITEQ's SATCOM product line includes:
Frequency Converters
Translators
Amplifiers
Redundant Switchover Units
Equalizer Products
Uplink Power Control
Beacon Receiver
Fiber Optics
Video Products
INMARSAT Products
Custom Products
You have successfully added from to your part list.
---