EOC-0101x A media converter for Coax to RJ-45
Product Announcement from MITS Component & System Corp.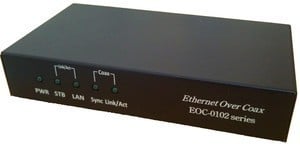 The EOC-0101x is used in Coaxial cable systems to extend Ethernet connectivity over existing CCTV/CATV grade Coaxial cable. The EOC-0101x series are point-to-multipoint EoCNA (Ethernet over Coax Network) solution that efficiently extends 10/100 Ethernet circuits to over 900 meters (2,952feet) at 112Mbps using existing coaxial cable.
Features :
High-speed up to 160Mbps communications link over existing coaxial cable, symmetrical on EoCNA 112Mbps @up to 900 meters (2,952 feet), reach down to 42Mbps @about 1.2Km (4000 feet)
Operates transparently to high layer protocols such as TCP/IP
Auto-MDIX and auto-negotiation 10Base-T or 100Base-TX and Full or Half-Duplex on the Ethernet port
Plug and Play design for simple installation, single switch configuration
Status LEDs for simple monitoring of the device and connection status
Supports point to multi-points : up to 32 units
Applications :
Extend LAN connectivity to a remote site or between buildings
Connect Ethernet to different Room over existing home Coaxial infrastructure
Connect new controller technology on the factory floor using existing wiring
Extend Ethernet connectivity from a backbone network to an isolated location via Coaxial cable
Transmit Video and traffic controller information over existing Coaxial cable.
---