Product Announcement from MOUVEX-Blackmer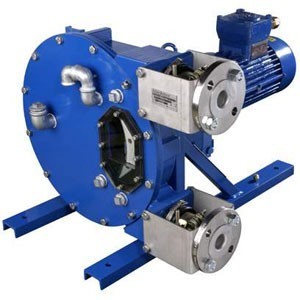 From viscous and/or abrasive sludges to water thin, non-lubricating fluids, corrosive chemicals or sheer sensitive materials, the Mouvex Abaque series peristaltic pump is the technology of choice. Due to the unique operating principle of this pump, typical applications span from wastewater to chemical processing to food manufacturing.
Pumping action is achieved by compression of a circular loop of elastomeric hose with two diametrically opposed rotating shoes. This rotational motion forces the fluid in the hose to move ahead of each shoe. When each shoes reaches the end of the loop, the reinforced tube immediately returns to its original shape, thereby ensuring suction and priming. The pump housing is partially filled with lubricant, aiding smooth running of the shoes on the hose. The inside of the hose and hose inserts are the only pieces of equipment in contact with pumped fluids, allowing aggressive and contaminated fluids to be pumped.
Features and Benefits:
* Available in 10 different sizes that provide flow rates of .07 to 290 gpm (15 to 66,000 L/h).
* Will handle abrasive fluids with little wear since only the hose and hose inserts are in contact with the material being pumped.
* Since only the inside of the hose and hose inserts are in contact with the pumpage, aggressive and contaminated fluids can be processed without the devastating damage experienced by other pumping technologies.
* Hoses are constructed of natural rubber, Buna, or EPDM within the pump's casing, provide high levels of volumetric accuracy for sampling, transfer, and metering applications.
* Ability to pass solids in the material being pumped.
* Dry-run capability allows tank and line stripping.
* Seal-less design eliminates leaks, contamination and wear problems associated with difficult to seal products.
* Self-priming up to 29.5 feet (9 meters).
* Reversible operation allows pumping in both directions.
* Durable construction of ductile iron and steel construction allow higher discharge pressures up to 217 psi (15 bar).
* Low maintenance requirements of the hose and shoes.
For more information:
You have successfully added from to your part list.
---