Product Announcement from M+P Labs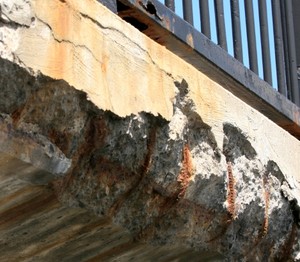 Looking for an independent, reputable third-party to assess the current condition of any concrete structure? Want to know if refinishing the surface is sufficient or if the damage is structural in nature? M+P Labs performs petrographic analysis to evaluate the integrity of concrete cores extracted from bridge decks and columns, roads, sidewalks, parking lots and structures, manufacturing floors, concrete overlays, and concrete/terrazzo floors to determine why concrete has cracked, delaminated, pitted, spalled or failed in any other manner, and provides recommendations for remediation.
Through materials testing, M+P Labs will answer the following questions:
Did the materials used match the concrete mix design?
Was appropriate aggregate used?
Were there any compatibility issues between the materials or environment?
What was the water/cement ratio?
Was the concrete placed properly?
Was it finished properly?
Did it cure properly?
Tests performed include:
Visual Exam: Detailed visual examination of all materials in as-received condition. Use low magnification optical microscopy to identify anomalies such as surface texture and deterioration, cracking (structural or shrinkage), size and depth of reinforcing steel, and visible porosity. Document with photomacrographs.
Density, Absorption, and Permeability: Non-destructive test using a standard method (ASTM C642), which provides an indicator of consistency between the mix design and actual concrete. This test also provides a gross measurement of the void cont.
Carbonation: A freshly-cut surface of the concrete is treated with an alcoholic solution of phenolphthalein to provide an indicator carbonation in the concrete. Carbonation occurs when the concrete reacts with carbon dioxide, mainly from the atmosphere, neutralizing the akali in the concrete, which changes the pH thereby reducing the passive film on reinforcing steel, leading to corrosion.
Sample Preparation: Cores are sectioned on a wet saw to extract samples of interest for detailed examination. Samples are incrementally polished to prepare the surfaces for analysis. If necessary, samples are mounted in epoxy resin and polished for analysis in a scanning electron microscope (SEM).
Microstructural Examination: Prepared samples are examined under high-magnification optical microscopy to assess the microstructure of paste and aggregate for features such as size and distribution of aggregate, microcracking, reaction products, and breakdown of aggregate (ASTM C856). Features are documented with high-resolution photomicrographs.
Air-Void Analysis: Measurement of overall percentage and distribution of the constituents in the concrete: entrained and entrapped air, aggregate, and cement paste (ASTM C457). This analysis is performed using calibrated image analysis software. Variation in air void content as a function of depth from the core surface can also be obtained.
SEM/EDS Analysis: Specially-prepared mounted and polished specimens are analyzed under high magnification using scanning electron microscopy (SEM) to assess the internal microstructure and investigate the presence of features such as microcracks, degree of cement hydration, presence of adverse reaction products, and excessive bleed channels. Qualitative analysis of chemical composition by Energy Dispersive Spectroscopy (EDS) is performed to verify that the constituents are consistent with the mix design and to determine if contaminants are present.
Reporting: All results and photos are documented in a formal test report, and subjected to peer review. All testing is performed in compliance with M+P Labs' rigorous quality assurance program, which satisfies ISO 17025, Nadcap (aerospace and defense industries) and 10 CFR 50 Appendix B (nuclear utility industry). These quality accreditations help ensure defensible results when litigation is involved.
Depending on the nature of the investigation, other tests may be required, such as:
Compression Strength: Standard test conducted in accordance with ASTM C39. If below spec, the concrete may not have enough strength to meet its design function. Low strength could be due to a variety of causes, including incorrect mix, excessive water, improper aggregate, or excessive entrained air.
Water-to-cement ratio: One of the most common causes of concrete failure is excessive water in the mix. The water-cement ratio can be measured in hardened concrete using a capillary porosity method, covered by British Standards (not covered by ASTM).
Chlorides: Drillings are taken from areas of interest in the core and analyzed chemically to measure the total chloride concentration. Samples taken at various depths below the surface of a core can provide an indicator of the depth of chloride penetration. Chlorides promote the corrosion of reinforcement and may induce concrete to crack or spall.
Cement Content: Samples of concrete paste are ground and analyzed chemically to determine cement content by weight.
FTIR Analysis: Chemical analysis technique utilized to identify contaminants and verify the composition of binders, epoxies and coatings present.
Expert Witness Testimony: Provision of petrographic analysis results by a pillar of the concrete technologists community to support litigation.
For clients local to our Schenectady, NY laboratory, we also offer the following services:
On-site inspection
Core location selection
Coring services
Expert witness services
Delamination surveys
Covermeter surveys
Half-cell potential surveys
Contact Information:
For additional information or to discuss your materials testing needs, please contact us at (518) 382-0082, via email at info@mandplabs.com, or visit us on the web at www.mandplabs.com.
You have successfully added from to your part list.
---