Product Announcement from MP Metal Products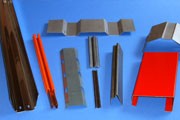 Q. How much volume is necessary?
A.Typically 30,000 lineal feet per year, or more, will help justify an investment in custom roll form tooling.
---

Q. What materials can be roll formed?
A.Most metals available in coil, sheet or strip. We roll form shapes in aluminum, steel (cold rolled, hot-rolled and galvanized) stainless and copper, to mention a few. Some parts are made from pre-coated material.
---

Q. How do we obtain prototypes?
A.Samples are usually available when the tooling is tried out. This confirms the shape and dimensions.
---

Q. How tight can tolerance be held?
A.Generally, roll forming will produce shapes with tolerances tighter than press breaking. Please refer to the design guide or contact us for more details.
---

Q. How may parts be packaged?
A.Several options are possible - from cardboard boxes, to skids, to overhead crane bundles. Contact us with specific weight and handling requirements.
---

Q. How wide can you roll form parts?
A.We roll form shapes from coil as wide as 48" and as narrow as 1/2".
---

Q. How heavy a gage can you roll form?
A.We roll from coil as thick as .165" and as thin as .005", in a variety of hardness.
---

Q. Can holes, notches, miters and markings be included?
A.Quite often these items can be incorporated into the roll form process to avoid secondary operations.
---

Q. Are stock or standard parts available?
A. They may be available, however, most of the items are custom made. Please contact us for details.
You have successfully added from to your part list.
---