Balun Transformers...RoHS Compliant
Product Announcement from MPS Industries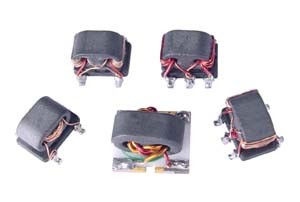 MPS Industries - has developed a new series of RoHS compliant Balun Transformers for CATV/Broadband/RF applications.
Electronic component manufacturers are under increasing pressure to conform to a range of RoHS (Restriction of Hazardous Substances) and MPS Industries is committed to conforming to these new standards.
The standard and custom designed Balun transformers include:
• Balun Transformer and Double Balanced Mixer
• RF & Wideband Isolation Transformer / Mixer
• Directional Coupler / Splitter
• Power RF chokes to > 800MHz
The Balun Transformers are constructed to be used in:
• Video Overlay for PON / FTTP / MoCA
• Optical Node
• Set-top Box
• Custom Designs
The bandwidth of the Balun transformers start from 100KHz to 2GHz. MPS Industries uses ultra high frequency response materials and special construction techniques to make the Balun transformers perform concisely over industrial temperature ranges and within RoHS Compliance.
The Balun transformers come in different dimensions: from 3.8mm x 3.8mm with 1.25mm pin spacing to 6.5mm x 7.2mm with 2.54mm pin spacing, as well as from gold plated ceramic base to LCP header. Other package dimensions are also available upon request.
RoHS compliant Balun Transformer technical specifications, and ordering information is available at www.mpsind.com.
---