Toroidal Power Transformers-low cost high quality
Product Announcement from MPS Industries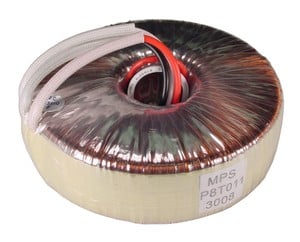 MPS Industries has developed a series of low cost, high quality power transformers for Audio/Video, Professional Audio, Multimedia Center, Entertainment Center, and Industrial Control applications.
MPS Toroidal Power Transformers are constructed with strip wound carbon steel lamination or silicon steel lamination. The close looped and low leakage configuration gives the transformer less power loss, higher efficiency, lower noise emission, quiet performance, and smaller size when compared with conventional EI lamination power transformers.
MPS Toroidal Power Transformers can be constructed into different configurations:
Single or double input voltage and frequency (example: 110Vac/220Vac, 50/60Hz)
Single or multiple output voltage and power
Step Up or Step Down
Auto-Transformer or Isolated Transfomer (up to 4KVrms isolation)
Many of our Toroidal Power Transformers have UL, CE, and CQC approval. For detailed specifications on our standard or custom Toroidal Power Transformers, please contact MPS Sales (sales@mpsind.com) or click here.
---