Alufix XL Fixture Systems
Product Announcement from MSI-Viking Gage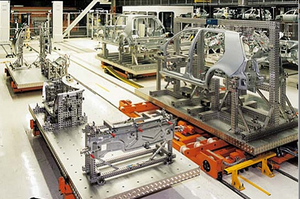 ALUFIX XL is a patented system for building all kinds of fixtures. It is economical, accurate and easy to combine with other systems.
With bar lengths up to 10 metres long, two grid system sizes 100mm and 50mm and a large variety of connection possibilities, fast building of almost any kind of fixture is possible using ALUFIX XL elements.
The principle of modular fixturing guarantees repeatability and a high degree of flexibility also for adaptation on existing fixtures. ALUFIX XL elements are only in contact with their environment or neighbouring elements through milled ball seats and special couplings. This means the machining tolerances of the extruded basic material have no effect on true to size dimensions of fixture. Solid couplings self centre over hollow surface area in cups and are screwed in there.
Complimenting our other systems ALUFIX XL additionally offers spacing variability along the length of the bars, making rebuilding fixtures very easy. Using special connectors a crossover to our ALUFIX Classic range is possible from almost any point on the system. Adaptation to other products is also possible.
Please contact MSI customer service or your MSI Sales Rep for prices and customizations.
---