Does Your Calibration company Measure Up?
Service Detail from MSI-Viking Gage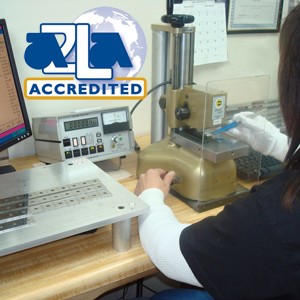 It may seem obvious, but knowing the right questions to ask the company who is calibrating your test and measuring instruments can be essential to keeping your plant running efficiently and your product quality to the highest possible standards. MSI-Viking Gage has composed this list of 7 important things to ask when you're comparing companies to calibrate your test and measuring equipment. And of course, MSI-Viking Gage's answer to each of these is a resounding YES! Contact us today for a calibration quote or to start a discussion.
1. Is your calibration company accredited?
Simply put, if they are not then you should find another calibration company.
2. Are they accredited by A2LA and to ISO/IEC 17025 standards.
All accreditation bodies are not created equal. There are many out there, but not all are as thorough and stringent in their audit practices as A2LA, and not all are based on the internationally accepted standard ISO/IEC 17025. A2LA ensures continued compliance by regularly re-assessing accredited laboratories to be certain that they are maintaining their standard of technical expertise. Your benefits include confidence in MSI-Viking Gage's sound quality procedures to minimize your risks, help you to avoid expensive re-testing, and reduce overall costly production mistakes.
3. Is their A2LA Accreditation scope broad enough to meet all of your company's needs?
Why go to a bunch of companies to calibrate different equipment? Using one company for everything creates efficiencies in pricing, keeping up with certs, intervals and history of equipment and more. It's easy to check any company's accreditation scope. Simply go to A2LA.org and look up the company to review their scope of services. MSI-Viking Gage is accredited for a tremendous list of dimensional and electronic precision and test instruments, torque and pressure equipment, as well as measuring standards such as gage blocks, fixed gages/feelers, and more.
4. Is their standard calibration turnaround within 5 working days?
Many of your instruments are critical to your daily operations. When calibration time comes, it is important to get them back and working as quickly as possible. MSI-Viking Gage will have your instrument on its way back to you within 5 days of receiving it. Need it faster? We also offer 24-Hour and 3-Day turnaround.
5. Do they offer Accredited On-Site calibration services?
Obviously some of your equipment isn't exactly portable, or maybe you just can't be without an instrument for even a day. Does your calibration company offer calibration, preventative maintenance and repair of equipment right at your site? MSI-Viking has a broad scope of accredited On-Site calibration services. Plus we can provide repair, maintenance, equipment installation services, and training - all right in your facility.
6. Can they Repair or Replace your instruments if they Fail Calibration?
Many companies will simply send your instrument back to you with a certification marked "FAILED". When this happens, you have to spend your precious time figuring out if you should repair it or replace it and then find someone to do that for you.
Because MSI-Viking Gage offers repair services and product sales, if your gage fails calibration we will automatically email you a quote for the cost to repair it or replace it. This allows you to make an informed decision about what to do, and saves you time shipping the product back to the manufacturer. MSI-Viking Gage's repair department is factory authorized for all major metrology brands, spindles and servos and industrial electronics. We will even troubleshoot issues with you on the phone to help you decide the best course of action.
7. Does your Calibration Company offer Online Access to certifications?
Your operation hours don't usually coincide with those of your Calibration Company. Can you pull instrument calibration certification 24/7? MSI-Viking Gage offers our customers free, secure and easy online access to your company's equipment records, history and certificates. You can log in twenty-four hours a day, seven days a week through our DataView by Gage InSite online account.
MSI-Viking Gage would love to discuss your calibration and repair needs. Call us today to start a conversation.
---