FSWorks™ Data and Gauging Software
Product Announcement from MSI-Viking Gage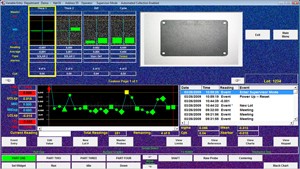 MSI-Viking Gage offers FSWorks™ by Factory Systems. FSWorks™ is a comprehensive factory floor statistical process control software package. This feature packed powerhouse software is designed to collect data from any source. From Calipers, Micrometers, complex LVDT fixtures, to CMM's, Databases and ERP systems, FSWorks™ can make the connection. It can handle basic applications and the most challenging systems, while making it all seem so simple.
The user experience is the primary directive. FSWorks™ strives to create a user interface that provides operators with concise easy to view information. The guess work is taken out of the analysis. Your experienced operators need only use the information to improve your processes.
OEE (Overall Equipment Effectiveness) is a major metric in use by companies that wish to stay competitive. FSWorks™ can be connected to your machines and record how long a machine is Running, Idle, or Down. Part Counts from the machine provide performance data. When a machine goes Idle or Down, the operators are prompted to record a reason. FSWorks™ is responsible for your quality and so we have everything need to calculate your full OEE. OEE= Quality X Performance X. Availability. Call MSI-Viking Gage today at 864-433-9771 for more information.
---