Vertical Floor Standing Measuring Projector
Product Announcement from MSI-Viking Gage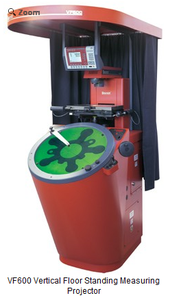 Starrett VF600 Vertical Floor Standing Measuring Projector, 24" (600mm) Screen, Workstage travel is 8" x 4" (200 x 100mm)
Availability: Call for Quote and Ordering
Especially suitable for larger components found in the electronics, pressings, and extrusion industries. The VF600 is ideal for use with overlays.
Screen is angled 30º from horizontal for clear, easy viewing
Workstage plate is 16" x 9" (400 x 225mm)
Glass insert is 9 ¼" x 5 ½" (235 x 140mm)
Workstage travel is 8" x 4" (200 x 100mm)
Accommodates components up to 66 lbs. (30 kg)
360º angular measurement to 1 minute of arc with electronic protractor
Helix angle: ±10º lamphouse adjustment
Front working distances: 5x - 8.6" (220mm), 10x - 5.4" (138mm), 20x - 5" (127mm), 25x - 4.1" (103mm), 50x - 3.5" (88mm), 100x - 1.7" (44mm)
Profile illumination - High-power, fan-cooled, tungsten halogen 150W lamp with yellow/green filte
Surface illumination - Fan-cooled 150W lamp/fiber optic system
Hood and curtains
Several readout/software options available
Workstage travel available as manual, motorized or CNC
Projection lens choices: 10x, 20x, 25x, 31.25x, 50x, 100x or a 3-lens turret
5x on special order with a single lens mount
You have successfully added from to your part list.
---