Line/Load Reactors
Product Announcement from MTE Corporation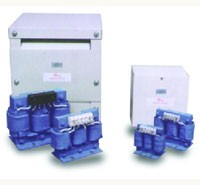 BENEFITS OF USING LINE/LOAD REACTORS
Guard-AC line/load reactors help keep your equipment running longer by absorbing many of the power line disturbances which otherwise damage or shut down your inverters, variable speed controllers, or other sensitive equipment. They are the modern technology solution to inverter and drive application problems. Guard-AC reactors are harmonic compensated and IGBT protected to assure optimum performance in the presence of harmonics. They are very effective at reducing harmonics produced by inverters and drives, and in most cases will help you to meet IEEE 519. Use our harmonic compensated reactors on either the input or output of an adjustable speed drive/inverter. There is no need to derate our "harmonic compensated" reactors for harmonics.
Protect Motors from Long Lead Effects
Reduce Output Voltage dv/dt
Virtually Eliminate Nuisance Tripping
Extend Semiconductor Life
Reduce Harmonic Distortion
Reduce Surge Currents
Reduce Motor Temperature
Reduce Motor Audible Noise
Improve True Power Factor
Helps Meet IEEE 519 or EN 61000-3-4
You have successfully added from to your part list.
---