Meeting standards for medical device applications
Product Announcement from MW Industries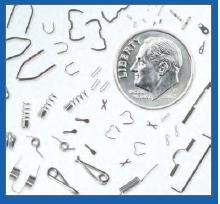 Surgical staples to catheter guide wires, hemostatic ligating clips to battery springs.... Economy Spring Division of MW Industries, Inc. is a manufacturer of precision wire forms, metal stampings, coil springs, torsion springs, and product assemblies that are utilized throughout the medical and pharmaceutical industries.
From laparoscopic device hardware, disposable drug delivery system components, implantable titanium products, catheter guide wires, electrical device contacts, diagnostic equipment components, surgical staples, and hemostatic/ligating clips: our manufacturing processes are designed to support rigid cleanliness and quality standards for the most demanding medical device applications.
Economy Spring can provide prototype services with our in-house tool engineering, to preliminary pilot production that helps support initial device development programs. Production is later supported by our high-speed state-of-the-art manufacturing equipment. The manufacturing capabilities we employ range from micro-coiling fine wire products, to bending/winding complex part shapes in our CNC wire form machines, to technical metal stampings in a progressive die.
Our engineering team is always available to assist our customers with their concepts to develop the product parameters that will optimize the design intent, or help with product packaging considerations that will help facilitate line-automation techniques.
Use the links on the left to learn more about the full range of custom precision medical components we can provide. Or e mail us - we welcome your inquiries
---