Stamped Components in many materials
Service Detail from MW Industries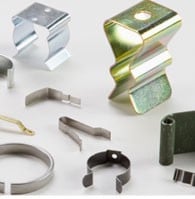 MW Industries, Inc. (MWI) specializes in the production of stampings using presses from 30 to 125 ton capacity. Materials range from high carbon steel, pre-tempered and alloys including chrome vanadium (CrV 5160) in thicknesses from .020" to .125" depending on the configuration of the part and tonnage required. Additionally, MWI produces flat springs in a variety of shapes, sizes and materials from flat strip steel.
Flat springs may function as electrical conductors, but more commonly are required to hold other assembly components in a set position. Fourslide equipment is used along with smaller punch presses in order to reduce the amount of tooling normally required for other production methods.
Material includes high carbon steel as well as alloyed and annealed materials. Thickness of material may range from .004" through .156" with part lengths to 16.5" and longer for special applications.
Most flat springs are formed, shaped, bent or otherwise manufactured to meet specific application requirements.
---