Product Announcement from Macawber Group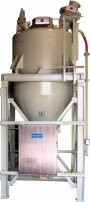 An advanced method of achieving completely blended integration of bulk materials. Over a period of years Macawber has developed a method of materials blending to achieve economy of operation and impressive ruggedness and reliability. A simple method of air jet location within a pressure vessel achieves the homogeneity required of the mixture to satisfy blending requirements. The PneuBlend action creates a successful blend of diverse materials regardless of their bulk density and particle size through a lifting and tumbling action to achieve uniform particle separation which is the basis of a successful blend. General operation: Below an inlet Dome Valve®, a load cell mounted conical pressure vessel is fitted with an array of air jets carefully positioned to direct the blending air around and into the extended heart of the material mass. For a predetermined period of time the mass is gently pulsed, lifted and tumbled. The result is a uniform homogeneous mixture that is then allowed to leave the PneuBlend through an outlet Dome Valve for transportation to the required destination. No pipeline boosters are used for the efficient transportation of the blend. Boosters and other pipeline flow aides tend to reverse the action of the blending process. Rugged construction, gentle blending.
You have successfully added from to your part list.
---