Industrial Electromagnets from MLTUS
Product Announcement from Magnetic Lifting Technologies US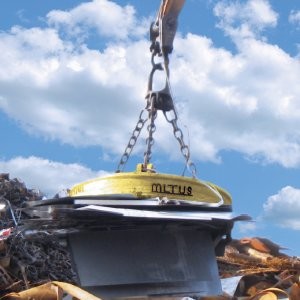 "Using magnets to handle scrap, shouldn't scrap your magnets."
Magnetic Lifting Technologies US (MLTUS) provides dynamic electromagnet solutions that are designed to outperform and outlast other magnet systems. We specialize in custom industrial magnets that thrive in some of the harshest working conditions imaginable, saving businesses downtime and other expenses.
Download our complete Services Guide.
En español: Guía de Servicios
MLTUS magnets are designed with your industry in mind:
• Steel • Scrap • Recycling
• Manufacturing • Slag • Fabricating
• Foundries • Mining • Iron
• Demolition • Railroad • Shipbuilding
All magnet purchases include advanced training.
When you purchase an MLTUS electromagnet, our trainers will be onsite to guide your teams in the techniques and procedures for maximizing the power and the lifespan of your investment. We'll also teach your personnel the necessary safety protocols to ensure everyone on your staff can use and work around your magnet safely.
Cradle-to-grave lifting solutions for your business.
MLTUS is a full-service provider of electromagnet systems. In addition to new and used sales and training we also offer extensive maintenance, repair, and remanufacturing services for any brand of electromagnet, not just our own.
Thanks to our comprehensive, industry-centered approach, MLTUS magnets work smarter, last longer and will reduce your operating costs. Contact us at 1-877-50-MLTUS (65887) or visit www.mltus.com to learn more.
You have successfully added from to your part list.
---