Product Announcement from Magnetic Shield Corporation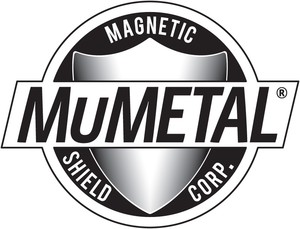 Developing unique solutions to meet customer needs since 1941
Magnetic Shield Corporation, a division of Perfection Mica Company, is the premier supplier of custom magnetic shield materials and custom-built shields:
CO-NETIC AA® Stress and Perfection
Annealed sheet and foil
NETIC® S-36 Stress Annealed sheet and foil
MuMetal® - an industry reference material
MuMetal® offers important electromagnetic field shielding characteristics, including very high magnetic permeability - its ability to absorb magnetic energy. The unique properties of this family of alloys results in the highest possible attenuation, making these shielding alloys the materials of choice for reducing low-frequency electromagnetic interference (EMI).
MuMetal is an industry reference material, with different characteristics than proprietary alloys. MuMetal meets MILSPEC 14411C, composition 1. When the specification or the application calls for a magnetically soft or high permeability material, MuMetal can frequently be successfully applied.
To obtain optimum magnetic properties, annealing MuMetal alloy following fabrication is essential. This should be done in a furnace that allows for careful control of the annealing temperature and cooling rate. Optimum properties are reached in a pure hydrogen atmosphere.
MuMetal magnetic shielding prevents magnetic fields from reaching areas where they would cause magnetic interference. Magnetic shielding is used around either the source of interference, to prevent electromagnetic radiation from leaving a device; or more typically, around a sensitive device, to prevent the electro magnetic interference (EMI) from disrupting normal operations.
There is no known material that blocks magnetic fields without itself being attracted to the magnetic force. Magnetic fields can only be redirected, not created or removed. To do this, high-permeability shielding alloys like MuMetal are used. The magnetic field lines are strongly attracted into the shielding material.
MuMetal magnetic shielding material is only available in 30 inch by 120 inch sheet form, in seven thicknesses. Sheets can be sheared from 120 inch sheets into shorter lengths for ease of shipping. MuMetal is made in the U.S.A. and stocked in our distribution facility near O'Hare airport in Chicago.

Download the New MuMETAL® Brochure click here
You have successfully added from to your part list.
---