Product Announcement from Manufacturers Supplies Co.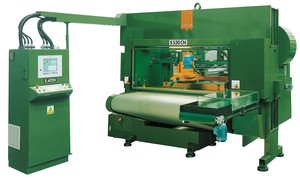 ATOM CNC Traveling Head Die Cutting Systems & Presses with, 3 controlled axis, can rotate the cutting head 360°, therefore it is possible to gain maximum advantage from the automatic nesting system & get optimal yields.They are cutting robots, granting power, precision and speed with material savings up to 35% eliminating 5-7 manually operated traveling head cutting presses.
The main technological components include: automatic nesting software, CNC module with advanced interface designed for ergonomics and ease of use, high cutting speeds up to 110 strokes per minute, and automatic material feeding. The cutting power, available in 25-40-50 tons, is kept consistent for extremely long production runs allowing the system to cut hard materials in single or multiple layers. The powerful nesting software calculates each material consumption and time required (thus lower cost) in order to produce precise simulations of the cutting cost, enabling improved production planning & more accurate offers to customers.
Designed for Reliability and Low Maintenance
The innovative conception of ATOM CNC Die Cutting Systems owes it's strength to the fully integrated process of design, manufacturing, assembling and test that characterizes an ATOM press as unique worldwide. ATOM conceives and manufactures the whole system: from hydraulics, to mechanics, to electronics, to software. All die cutting machines and operating software have been designed simultaneously by ATOM engineers for absolute compatibility and full integration.

Ease of Operation
No special skills are required to operate the press. Your current press operators can use it. Machine programming and nesting may be carried out either locally or remotely from your production planning office. Cutting programs can be transferred through network or diskette. The work schedule automatically controls the press and informs the operators when material and tool changes are required. If your material width varies, or rush jobs require immediate priority, the operator can instantly re nest the schedule to accommodate these changes. Standard cutting tools are fitted onto a simple steel carrier plate and easily replaced on the cutting head in less than ten seconds.
Strong, Rigid Construction
This die cutting press is a pure CNC machine, not a manual press retrofitted with some automatic features. The construction of the press, designed on the latest CAD systems, is the most robust and rigid available. Positive mechanical end of stroke is automatically set ensuring accurate depth of cut. Ball lead screws and rectified gears ensure positioning accuracies are constantly maintained within a few tenths of millimeters, thus allowing for minimum gaps between cuts and, in turn, for better material utilization.
Powerful Nesting Software
The nesting software gives the best material utilization and the fastest cutting speeds available on todays market. Ultimate job flexibility is achieved without the need to change your current production methods. All nesting features are completely automatic. You can nest any shape-regular or irregular, into sheets or rolls and sheets joined into rolls. You can nest a breakdown of different shapes, sizes and quantities in a single run-optimizing material utilization. Bias or diagonal cutting is a standard feature. Precise job costing and timings may be calculated instantly. In this way your material ordering and stock level can be tightly controlled and kept down to a minimum.
Manufacturers Supplies Company has installed over 200 CNC die cutting systems throughout North America. We provide complete support for both hardware and software along with on-line diagnostics and software assistance. MSC has appointed service technicians exclusively to maintain our CNC equipment and this is why we stand above the rest because we "service and support what we sell".
Please contact us at the following locations for more information on our complete range of ATOM Die Cutting Systems & Presses:
MSC Cincinnati OH : 513.677.3311 : information@mfgsup.com
MSC St. Louis MO : 314.770.0880 : information@mfgsup.com
You have successfully added from to your part list.
---