High Power Infrared Emitters
Product Announcement from Marktech Optoelectronics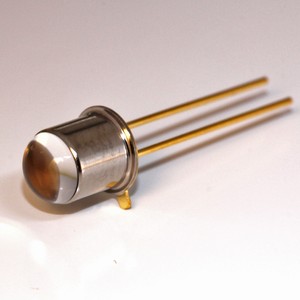 Latham, New York: Marktech Optoelectronics, a leading supplier of visible and infrared LED sensor technology, introduces the latest series of high power, infrared 870 nm emitters with narrow viewing angles of 8, 10 and 12-degrees. The new MTE2087 series is ideally suited for line scanning, encoders and machine vision applications. Featuring an extremely narrow 8-degree viewing angle with high power output of 6.5mW, the MTE2087NJ2 yields superior results in critical scanning applications. Precision die placement in metal can TO-18 and TO-46 packaging, ensure the highest accuracy in high-speed applications.
Marktech has an extensive LED sensor product lineup targeted at industrial market. Also available in standard 10-degree, 10mW and a 12-degree 9mW options, the 2087 can be configured into a number of TO can and lens standard options based upon application needs. In addition, Marktech offers custom arrays of emitter and detector technology.
This product is available for immediate sale on the Digikey website.
---