LED Chip on Board Assemblies
Product Announcement from Marktech Optoelectronics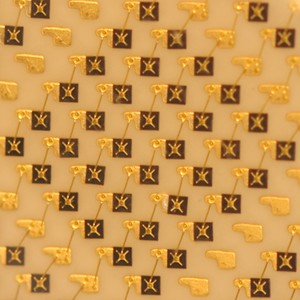 LED Chip on Board Technology
As electronic products evolve technologically and the push for miniaturization continues, space constraints for electronics continue to be a concern for design engineers. In such cases it's best to work around this issue and therefore around standard LED packaging moving to a chip on board (COB) solution where many LED chips can be placed into a small amount of space.
LED COB is defined as mounting LED die, ultraviolet, visible and/or infrared, directly to a printed circuit board as opposed to packaging the die in one of the standard options such as Surface Mount or Through Hole LED type packages. Depending on the chip type and structure, there are a few ways to properly attach or bond an LED chip to a pad of the PC board. Some of the more powerful chips available require a flux eutectic type attaching which limited vendors like Marktech can offer. Additional processes include wire bonding an electrical connection from the board to the LED chip and encapsulating the chip entirely to protect it from mechanical damage or contaminants.
Medical instrumentation is one business sector that benefits greatly from LED COB packaging. In applications like a medical endoscope for example, an illumination ring is needed on the end of a very narrow instrument. A COB light ring is a feasible solution to pack enough chips to illuminate the subject matter taking into consideration that the instrument is a very narrow diameter platform and usually will have additional functions such as imaging to compete with for the same real estate.
In addition to using COB technology for illumination purposes, emission and detection functions of a sensor application can be greatly enhanced. With the ability to pack more light emission or light detection chips into an area, performance of the circuit can greatly increase.
About Marktech
Now celebrating its 30th year Marktech Optoelectronics is a manufacturer of sensors and InP epiwafers. Marktech maintains an onsite engineering and design team with years of experience in applications and product design. Marktech's only business is optoelectronics and we take pride in our support capabilities which features a lab containing state of teh art test equipement allowing us to test and validate for all optical and electrical parameters. In addition to our sensor line Marktech is a Cree Solutions Provider for their line of High Brightness LEDs and materials.
Marktech designs and manufactures LED Chip-on-Board assemblies and multichip LEDs which incorporate multiple die configurations or wavelengths ranging from Ultraviolet to SWIR. Our technical and production engineers manage a vertically integrated manufacturing process of circuit layout, die wafer and chip processing, die attachment and finished product assembly. Throughout all of our processes, the highest levels of quality assurance are in place making sure that the initial design is carried through the entire process.
Marktech's design capabilities have lead to our partnership with Digikey as a design Design Partner. A variety of standard high reliability components are available for immediate purchase on the Digikey Website.
About Our State of the Art InP/InGaAs technologies:
Utilizing sophisticated manufacturing processes in Epitaxial InP thin film growth, Marktech is now producing high reliability wafers on 2", 3" and 4" substrates with wavelengths of 1.7µm to 2.6µm. Demands continue to increase for higher transmission rate and longer wavelength components capable of exceeding today's commercially available products with speeds ranging up to 10Gbit/s. It is acknowledged that GaAs and SiGe based components have limitations in terms of speed. Devices based on an InP platform are capable of exceeding these transmission rate limitations, including the operating margin.
---