BetaProbe TI Digital Thermometer
Product Announcement from Martel Electronics Corporation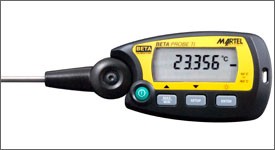 A single BetaProbe TI high precision digital thermometer can replace many liquid-in-glass (l-i-g) thermometers. It can also serve as a reference standard for other types of digital or analog temperature indicators. Plus, intrinsically safe certification means it can be used virtually anywhere.
BetaProbe TI General Features:
Wide range compared to L-I-G thermometers
Low total cost of ownership (TCO) due to simple recalibration procedure
High accuracy and resolution
CSA Intrinsically Safe
Fast response
Data logging with optional BetaLOG™ TI software
Temperature trend indicator
Rugged and reliable
EFI/RFI standard compliant
Long battery life
User configurable features
The integral 3/16" (5 mm) diameter probe houses a quick response thin film sensor for quickly acquiring highly accurate readings using minimal insertion depth. The integral probe also rotates through 90° for any angle reading of the display.
---