Personalize Cards Quickly and Efficiently.
Product Announcement from Matica Technologies Inc.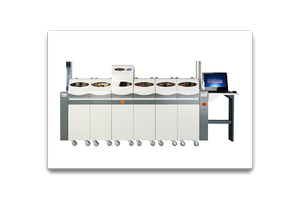 When high speed issuance is required, reliability and flexibility are the keys to success. Matica's central issuance products meet and exceed these requirements, able to print, encode and emboss over 2000 cards per hour. These systems are completely modular and can be upgrated in the field by adding the module that is needed.

These systems can be configured in any way that is needed to personalize cards quickly and efficiently. They can be linked to our mailing systems to provide a complete turnkey system.

Applications and target markets

These machines are ideal solutions for the following applications:
Credit & debit cards
Identification cards
Membership cards
Loyalty cards
Security cards
Prepaid telephone cards
Insurance cards
Prepaid renting cards
Patient cards

Target markets:
Finance
Government institutions
Public authorities
Healthcare
Insurance companies
Large-scale retail trade
Telecommunication
Transit
Matica System is a leading worldwide company that designs, manufactures and markets card personalization, card mailing systems and ID card printers. The product portfolio includes proprietary designed high speed, midrange and desktop solutions for banking, government, ID, passports, access control and transportation applications.
---