S6000 Line
Product Announcement from Matica Technologies Inc.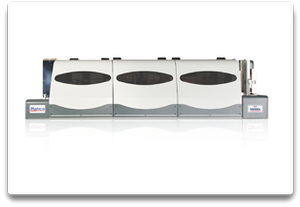 The S6000 a product line leverage highly proven technology from Matica's S7000 to provide banks, card bureaus and others with new price-performance choices.
Matica's new S6000 line consists of several pre-configured card personalization solutions for graphics printing, embossing or both. These smaller systems can be used on a table top or placed on an optional floor stand and will undoubtedly represent the optimal balance of price, performance and form factor for many customers.
Applications and target markets

These machines are ideal solutions for the following applications:
Credit & debit cards
Identification cards
Membership cards
Loyalty cards
Security cards
Prepaid telephone cards
Insurance cards
Prepaid renting cards
Patient cards
Target markets:
Government institutions
Finance
Public authorities
Healthcare
Insurance companies
Large-scale retail trade
Transit
Telecommunication
Matica System is a leading worldwide company that designs, manufactures and markets card personalization, card mailing systems and ID card printers. The product portfolio includes proprietary designed high speed, midrange and desktop solutions for banking, government, ID, passports, access control and transportation applications.
---