Continuous Inkjet Coding
Product Announcement from Matthews Marking Systems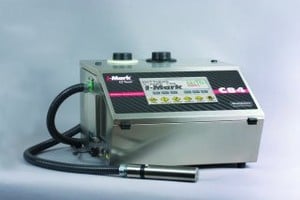 And performance is aided by the self-cleaning printhead and the auto-flush routine at shutdown.With up to 4-line printing capability, and a variety of ink options, including pigmented inks, the C84+ is suitable for printing date codes on aluminum cans, lot codes on blister packs, or barcodes on plastic pipe, to name a few applications.
10.4" color touch screen simplifies operation
Up to 4 lines of print, at speeds up to 1050 feet per minute
Self-cleaning printhead minimizes downtime
Efficient solvent consumption for lower operating costs
Ink colors: Black, green, red, white, yellow, UV readable available
We are part of Matthews International's Brand Solutions Group, whose companies focus on providing total brand experiences; packaging design and management; in-store communications and displays; plus warehouse picking systems; material movement; and marking and coding systems.
Headquartered in Pittsburgh, Pennsylvania, Matthews Marking Systems has a worldwide sales, service and distribution network. We pride ourselves on being the single source for all of your marking needs, offering products and services of unmatched quality.
With over 160 years of marking and coding experience, Matthews Marking Systems has established a global reputation as a premier innovator and supplier of cutting edge technologies and equipment in the marking and coding industry. Best known for our robust and reliable systems along with a complete line of consumables, Matthews provides our customers:
Branding
Marking and coding
Product identification
Traceability solutions
Our product portfolio includes inkjet, laser, thermal transfer, contact, indenting , custom solutions, service and consumables.
Customer Service Matthews' Inside Sales team is experienced and helpful and waiting to hear from you. Contact us to place your next order or ask about a previous one. Be sure to ask how Matthews can help save you money with blanket orders and volume discounts.
Technical Support At Matthews, we understand that you want reliable, quality marking and limited downtime. To help ensure this, we offer both on-site technical service and 24 hour technical phone support. Whether you need to troubleshoot a problem, regular maintenance, or a complex repair, we are here to help.
---