Drop-on-Demand InkJet Printing
Product Announcement from Matthews Marking Systems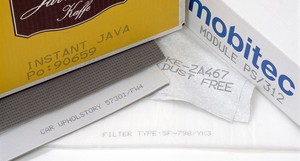 Drop-on-Demand InkJet Printing
With a variety of controllers, printheads, and inks available to choose from, Drop-On-Demand printing is suitable for many different packaging and industrial applications. Case coding, bags, lumber, and metals are just a few of the common applications where we have provided successful solutions. The flexible, modular design allows you to select the right combination for your needs.
Printheads
Matthews offers two styles of Drop-On-Demand large character valve printheads: Standard Series and 8000 Series.
Standard Series printheads produce a medium resolution mark, with character heights from ¼" to 2-1/2", offered in either 7 or 16 valve printheads.
8000 Series printheads produce a high resolution mark by overlapping a series of smaller dots. Character heights range from
3/32" to 5".
Controllers
Matthews offers several different controllers capable of driving the family of large character valve printheads. Printing applications sometimes include challenging factors, such as the need to print on both sides the product, graphics and logos, large format images that require multiple printheads, and many others. Our range of controllers allows you to produce the mark you need as economically as possible, whether your application is simple or complex.
Ink Supply Systems
Each application has different demands, based on the specific need and requirement. Matthews offers many options when it comes to ink delivery systems for the large character drop on demand systems. For low-volume users, there is a compact, 1-liter ink supply unit. For larger-volume users we offer 4-liter, 5-gallon, and 55-gallon large capacity ink supply systems. Matthews produces a special water-based ink system called J.A.W.S. (Just Add Water System) that provides ink on demand from concentrate. The Flowjet pigmented ink delivery system provides continuous ink circulation throughout the ink container, ink tubing, and printhead to prevent settling of pigments
We are part of Matthews International's Brand Solutions Group, whose companies focus on providing total brand experiences; packaging design and management; in-store communications and displays; plus warehouse picking systems; material movement; and marking and coding systems.
Headquartered in Pittsburgh, Pennsylvania, Matthews Marking Systems has a worldwide sales, service and distribution network. We pride ourselves on being the single source for all of your marking needs, offering products and services of unmatched quality.
With over 160 years of marking and coding experience, Matthews Marking Systems has established a global reputation as a premier innovator and supplier of cutting edge technologies and equipment in the marking and coding industry. Best known for our robust and reliable systems along with a complete line of consumables, Matthews provides our customers:
Branding
Marking and coding
Product identification
Traceability solutions
Our product portfolio includes inkjet, laser, thermal transfer, contact, indenting , custom solutions, service and consumables.
Customer Service Matthews' Inside Sales team is experienced and helpful and waiting to hear from you. Contact us to place your next order or ask about a previous one. Be sure to ask how Matthews can help save you money with blanket orders and volume discounts.
Technical Support At Matthews, we understand that you want reliable, quality marking and limited downtime. To help ensure this, we offer both on-site technical service and 24 hour technical phone support. Whether you need to troubleshoot a problem, regular maintenance, or a complex repair, we are here to help.
---