Product Announcement from Maxon - A Honeywell Company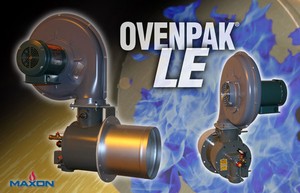 Low emissions, high performance natural gas burners
OVENPAK® LE Burners are nozzle-mixing gas burners for many industrial, direct-fired applications where clean combustion and high turndown are required. The burners are simple and versatile for use on a variety of heating applications.
The gas flows through the nozzle, then along the inside of the burner cone where combustion air is rapidly mixed with the fuel. This produces a very wide turndown range and a highly stable flame under a variety of operating conditions.
Fuel and air pressures for the burner are balanced (always equal). This unique design provides simple operation and adjustment throughout the operational range of the burner. The balanced pressure feature also makes the OVENPAK® LE Burner resistant to firing chamber pressure fluctuations.
The OVENPAK® LE Burner is available in several versions. Packaged burners contain integral combustion air blower and linked air and fuel control valves to maintain the gas-air ratio over the full operating range. EB versions include an internal air control valve designed to be connected to an external fuel control valve. The EB version may also be ordered with no control valves.
The OVENPAK® LE Burner includes a combustion air blower with non-sparking paddle wheel-type impeller, pilot, spark ignitor,stainless steel discharge sleeve, mixing cone, and provision for a flame sensor.
Typical OVENPAK® LE burner applications include:
air heating in ovens and dryers
automotive paint finishing lines
petro chemical processing
paper machines
textile machines
food baking ovens
coffee roasters
grain dryers
other air heaters
MAXON low NOx burners assure minimal pollutant formation without sacrificing operational reliability or efficiency. At MAXON, we're doing our part to provide some of the most reliable low NOx burners and ultra low NOx burners through innovative, robust technology.
To learn more about these burners you can visit our booth 4419 at the National Manufacturing Week in Chicago Sept 25 - 27....... or just click on the Product Details weblink on the right to see specs and download a pdf with drawings and specs
You have successfully added from to your part list.
---