Product Announcement from Measurement Computing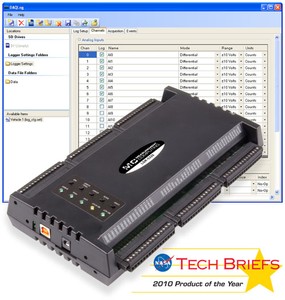 Measurement Computing's LGR-5320 Series of High-Speed Data Loggers announced as NASA Tech Briefs 2010 Product of the Year.
Measurement Computing Corporation, a leading manufacturer of value-priced data acquisition hardware and software, today announced that the LGR-5320 Series of high-speed, stand-alone data loggers has been chosen by NASA Tech Briefs as Product of the Year for 2010.
According to Linda L. Bell, NASA Tech Briefs Editorial Director, "The NASA Tech Briefs Products of the Year are those with the highest practical value and technical merit for our design engineering audience. Selected by the readers of NASA Tech Briefs, the winners represent the most significant new products introduced to the design engineering community during 2010."
The LGR-5320 Series data loggers allow users to collect high-speed correlated analog and digital data without a computer. These devices feature 16-bit resolution, 16 analog and 16 digital inputs plus four encoder inputs. The LGR-5320 Series can make high-speed measurements, up to 200 kS/s, directly to a Secure Digital (SD™) memory card. Utilizing the advanced analog and digital triggering options, users can collect data to monitor systems and events. The LGR-5320 loggers ship with easy-to-use DAQLog™ software to configure the devices and retrieve data via the USB interface or SD memory card. Each device includes a 4 GB SD memory card and is expandable to 32 GB SD memory for collecting up to 16 billion measurements.
Starting at $1,499, customers now have an affordable solution to monitor systems and capture transient analog and digital data. Visit http://www.mccdaq.com/LGR for more information.
You have successfully added from to your part list.

Play Award Winning Data Logger Video
---