Product Announcement from Meggitt Sensing Systems - Measurement Group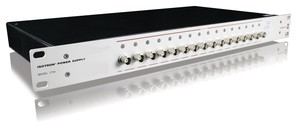 Meggitt Sensing Systems, a Meggitt group division, has introduced the Endevco® model 2793, a 16-channel power supply and signal conditioner, designed to accept inputs from ISOTRON® or other piezoelectric transducers and remote charge converters (RCC) within a high-impedance measurement system.
Each channel of the Endevco® model 2793 offers constant current excitation, either 4 mA or 10 mA for the transducer or RCC, with all outputs buffered for driving long cables. The signal conditioning unit offers a relatively low per-channel cost and a wide frequency range of 1 Hz to 80 kHz. LED status indicators inform the user of short, open or normal operating conditions, ensuring greater test setup reliability. For added flexibility, each channel provides gain (1 or 10) and current excitation (4 mA or 10 mA) settings, selectable by internal jumpers. In addition, the model 2793 offers a "D" output connector for simple connection to a D/A board.
Designed with a 19-inch rack mount, to be used as a drop-in replacement for legacy or competitive models, the Endevco® model 2793 is ideal for the support of general purpose vibration laboratory testing, aerospace and automotive test cells or higher-channel count NVH testing applications.
In addition, quantities of the model 2793 are available for immediate customer shipment as part of Meggitt's Endevco® Guaranteed InStock™ program, with all products accompanied by a comprehensive five-year warranty.
For more information about the Endevco® model 2793 or other products available from Meggitt Sensing Systems, visit www.meggittsensingsystems.com

About Meggitt Sensing Systems
Meggitt Sensing Systems, a Meggitt division (www.meggitt.com), is a leading supplier of high-performance sensing and monitoring systems for physical parameter measurements in extreme environments. It has operated since 1927 through its antecedents -ECET, Endevco, Ferroperm Piezoceramics, Lodge Ignition, Sensorex, Vibro-Meter and Wilcoxon Research -whose portfolios form the basis of product lines offered by today's Meggitt Sensing Systems. Meggitt's Endevco® range of piezoelectric, piezoresistive, Isotron® and variable capacitance accelerometers, piezoresistive pressure transducers, acoustic sensors, electronic instruments and calibration systems ensure critical accuracy and reliability within aerospace, automotive, defense, industrial, medical, power generation, R&D, space and test and measurement applications. Endevco® and Isotron® are registered trademarks of the Meggitt group. All other trademarks are property of their respective owners.
You have successfully added from to your part list.
---