Product Announcement from Meggitt Sensing Systems - Measurement Group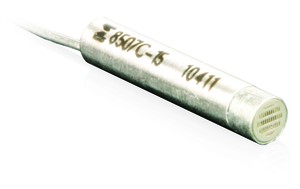 Meggitt Sensing Systems, a Meggitt group division, has introduced the Endevco® model 8507C, a rugged, miniature high-intensity acoustic microphone and piezoresistive pressure transducer. Its high sensitivity, combined with high resonance frequency, makes it ideal for use in demanding flight and aerodynamic testing applications such as supersonic jet airflow fields; hypersonic, transonic and "quiet flow" wind tunnel testing; and turbulent airflow measurements.
Available in four measurement ranges from 1 to 15 psig with a full-scale output of 300 mV and up to minimum 20X burst pressure (1 and 2 psig), the Endevco® model 8507C features an active four-arm strain gauge bridge diffused into a sculptured silicon diaphragm for maximum sensitivity and wideband frequency response. Self-contained hybrid temperature compensation provides stable performance over a wide operating temperature range of -18 to +93°C (0 to +200°F), with excellent measurement stability during thermal transients. The sensors also feature excellent linear performance to 3X range and high shock resistance. The 0.092-inch (2.34 mm) cylindrical housing of the Endevco® model 8507C is designed for space constrained installations, or for those which do not require threaded mounting. Its small size even permits flush mounting on curved surfaces.
Recommended accessories for the Endevco® model 8507C include the model 126 three-channel DC bridge amplifier; the model 136 three-channel signal conditioner; model 4430A bridge transducer signal conditioner, or the model 4990a Oasis rack-mounted signal conditioner. For detailed technical specifications, drawings or additional information, visit www.meggittsensingsystems.com.
About Meggitt Sensing Systems
Meggitt Sensing Systems, a Meggitt group division (www.meggitt.com), is a leading supplier of high-performance sensing and monitoring systems for physical parameter measurements in extreme environments. It has operated since 1927 through its antecedents-ECET, Endevco, Ferroperm Piezoceramics, Lodge Ignition, Sensorex, Vibro-Meter and Wilcoxon Research-whose portfolios form the basis of product lines offered by today's Meggitt Sensing Systems. Meggitt's Endevco® range of piezoelectric, piezoresistive, Isotron® and variable capacitance accelerometers, piezoresistive pressure transducers, acoustic sensors, electronic instruments and calibration systems ensure critical accuracy and reliability within aerospace, automotive, defense, industrial, medical, power generation, R&D, space and test and measurement applications. Endevco® and Isotron® are registered trademarks of the Meggitt group. All other trademarks are property of their respective owners.
You have successfully added from to your part list.
---