Megladon Designs Custom CWDM Solutions
Product Announcement from Megladon Manufacturing Group, Ltd.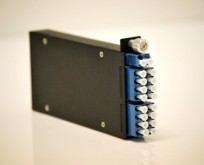 The compact, custom CWDM was designed to support the ultra-dense CWDM needs of cell backhaul and DAS deployments. Each module contains two 8ch CWDM's for a total potential capacity of 38 CWDM's per 2U rack space. This level of density provides space savings and future expansion opportunities. Megladon is capable of designing custom CWDM solutions for any deployment criteria.
Megladon CWDM modules are custom built to support our customer's single fiber transmission needs. We utilize all major glass types and connectors, build within the LGX footprint, and create bi-directional modules. By maximizing the quantity of CWDMs per module, we provide dense and scalable solutions for our customers.
The compact, space saving design of Megladon's LGX SM splitters offers flexibility in FTTx and RFoG deployments. Megladon builds each splitter with superior physical and performance characteristics that have been proven reliable in a variety of field applications. Each splitter can is custom built with specified fiber and connector types, and are compatible with the LGX footprint.
When Reliability Matters
Demand HLC Products
Megladon designs and builds passive fiber optic devices, and is committed to improving fiber connectivity. Products that have undergone our patented HLC laser termination process feature Scratch Resistant mating surfaces and improved optical performance.
Megladon has spent the past 12 years developing fiber optic technology and perfecting the HLC interconnect. The patented technology and process results in a reference grade interconnect that is reliable, durable and provides maximum performance.
With millions of products deployed worldwide, the technology has been proven time and again to solve many of the problems encountered in network deployment and maintenance. We have used the HLC as the foundation piece to develop unique passive fiber optic solutions for our customers. More about Megladon
Core Benefits
When your application is Business Critical, Megladon's HLC cables are the reliable choice.
HLC Benefits:
Scratch Resistant Connectors
Best In Class Optical Performance
Fully Compatible with Existing Infrastructure
Megladon Manufacturing Group, Ltd.
We strive to incorporate the highest level of quality in every transaction.
You have successfully added from to your part list.
---