End Mill Coatings
Product Announcement from Melin Tool Company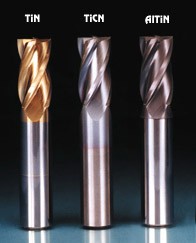 Applying a coating to a tool allows the user to substantially increase speeds and feeds while minimizing tool wear. So that you may choose the best coating for your particular application, Melin provides any one of our 3 standard coatings (TiN, TiCN, and AlTiN) for the same coated price. Most common sizes are stocked with coatings.
Melin coats nearly all tools in house using a state of the art coating center in our Cleveland facility. Controlling the coating process allows us to:
maintain excellent coated tool inventories
preserve low costs associated with coating tools
reduce lead times to apply coatings to uncoated tools
To order standard coated tools, simply add TiN, TiCN, or AlTiN after the tool name or change the 1 in the first digit of the EDP number to 2 for TiN, 4 for TiCN, or 5 for AlTiN.
Other coatings include nACo, ZrN, CVD, and PVD.
* Standard coatings (TiN, TiCN, AlTiN).
Standard coatings:
Titanium Nitride (TiN)
Titanium Carbonitride (TiCN)
Aluminum Titanium Nitride (AlTiN)
Other coatings available:
nACo - Aluminium Titanium Nitride + Silicon Nitride
CVD Diamond Coating (Dia)
Zirconium Nitride (ZrN)
Black Oxide
---