Product Announcement from Metal Cutting Corporation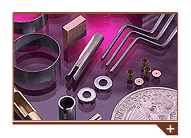 Burr Free Cut-Off Metal Parts
Exact Dimensions.......Tight Tolerances!
Metal Cutting Corporation (Cedar Grove, NJ) is the largest independent source for burr-free abrasive wheel cut-off metal parts. Their principal business is the cutting, grinding, lapping and polishing of small diameter metal tubes, wires, and rods to extremely precise dimensions and with surface finishes as smooth as one microinch. Their products are used in th medical device, automotive, electronic, electrical, computer, and semiconductor industries.
Manufacturing Services
Our abrasive & EDM cutting machines deliver to you burr-free small diameter precision tolerance cut-off parts from all types of metal, coated or uncoated. With an unmatched cutting capacity, we can deliver small quantities with the fastest delivery speed and at the same time produce high quantity production runs for scheduled contracts. No order is too big or too small!
All of our machines have been enhanced with various advanced custom features, including programmable operation for maximum set-up flexibility and change-over speed, computerized cutting pressure controls to eliminate burrs, linear in-feed encoding to achieve the tightest tolerances and rotary work to yield exceptional squareness. And as you read this, we are continuously improving our machines.
We have many centerless grinders of two types. Some are designed with an open architecture that allows high throughput speeds and fast change-overs. Others are customized and dedicated to holding extraordinary outside diameter tolerances. Both types process any metal, solid or tubular, and are capable of 4 micro-inch gound surface finishes.
Our in-house machine shop contains multiple surface and profile grinders that allow us to serve the micro-machining market with a specialty in small batch, fast turn-around jobs. Our skilled machinists and grinders are able to produce ground profiles, forms, tapers, slots, angles, bent and pointed metal parts at the smallest limits of radii and diameters
Whether you have a large or small requirement for highly polished part ends, extremely tight length tolerances or extraordinary flatness, we can meet your requirements with our large lapping, fine grinding and flat honing capability. Our capacity may be large, but our specialty is the stress-free fine grinding of small metal parts.
We have three types of lapping equipment, each of which offers specialized performance and easy set-up for small batch fast turn-around. Our double disk grinders have huge throughput capacity and can handle your largest volumes. Solid parts or tubes, including thin wall tubes, can all be precision processed free of heat affected zones and with significant surface finish improvements.
With an enormous range and quantity of vibratory, barrel, centrifugal, continuous flow and ultrasonic finishing systems we have the capacity to improve the surface finishes and edge radii of your metal parts. Our vast array of equipment running on a continuous schedule can mechanically polish very large quantities of very small parts or small batches of very large parts and every combination in between.
We use the wide range of standard media as well as our own unique specialized media to produce mirror to matte finishes on solid wire, rod and tubular parts. Controlled radii and surface finishes as smooth as 1 micro-inch are available. We continually improve our surface finish metrology measuring equipment and techniques to confirm dimensions and surface finish conditions.
Our cleanroom houses an array of custom designed system integrated metrology devices. Our cleanroom facility contains LVDT fulcrum beam measuring systems for high volume measuring of micron tolerances, twin sequential camera vision systems using parallel computer processors for defect identification and dual laser PLC full circumference parallelism and concentricity inspection.
Throughout our factory are multi-stage ultrasonic cleaning stations, multiple dimensional diverging graders, single and multi-axis laser micrometers, linear variable differential transformer dimensional probe stands, electromagnetic non-destructive eddy current metallurgical flaw testers, automated image matching video comparators and SPC enabled recording equipment.
Our manufacturing processes can work with any type of metal. All metals from "A to Z" and everything in between. To offer the best delivery possible, we keep a large inventory of commonly requested metals. If we do not have it, we have years of sourcing experience and an extensive network of suppliers. If it is out there, we can get it. Of course, we can always work with any material that you supply.
Our specialty is small parts, the smaller the better. Basically, diameters from 25 mm for solids (and 75 mm for tubes) to virtually invisible are our specialty. When asked how small a wire diameter or how small an inside tube diameter or how thick a tube wall, we say that if it can be made, we can cut it. Grinding, lapping and polishing each have their smallest size limitations... ask us.
Thank you for your interest in our services. We are happy to provide you with a few precision cut-off parts at no charge in or as near as possible to your size range from our available sample stock of stainless steel parts to demonstrate our high quality burr-free capability. When completing the form below, the wider the size range you request, the more likely we will have the parts to send you. Samples will be sent via First Class postal service -- if you need something faster, please call us.
You have successfully added from to your part list.
---