Metalfab's Sanitary Bin Activators
Product Announcement from Metalfab, Inc.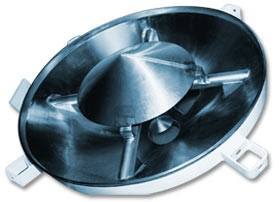 Metalfab's Sanitary Bin Activators feature the same rugged, durable, long lasting construction and unique operating features found in our standard steel bin activator line. However, a number of added features make our sanitary bin activators suitable for food applications - including continuous internal welds ground smooth, all contact surfaces polished to a Spec, secondary baffle support without threads, primary baffle raised 2" off the cross members, round cross members with enclosed corners, white neoprene main sleeve and "bead blasted" exterior steel surfaces. Constructed to 3A standards is also optional, including contact welds ground smooth to the minimum required radius of the bin activator.
Features/Benefits:
Wide Range of Sizes: 2' to 16' diameter
Unique Dual Baffle Design: features a primary and suspended secondary baffle that delivers continuous flow of dry materials without plugging, jamming or bridging
Endless Beaded Flexible Sleeve: is 7/16" thick with 3-ply reinforcement
that is desgined to not puncture, slip or leak
Solid Steel Suspension Arms: are bolted 90º and can support up to 5000,000 lbs. each to ensure the bin activator will always remain attached to the bin and cannot move off-center
Unitized Vibrator and Motor: combines the vibrator and motor in a single, sealed enclosure with no belts to slip or break – uconditionally guaranteed for 30 months
Performance Guarantee: every Metalfab bin activator is guaranteed to perform in accordance with specifications or the purchase price will be refunded
Continuous heliarc welded internal welds
304 or 316 stainless steel with #4 finish and easy-to-clean food grade gasketing
Constructed to 3A standards optional.
Operating Characteristics:
Delivers long-lasting performance with low maintenance, maximum process "uptime" and high standard quality - all at a very competitive price
---