Free White Paper for VaneFlex pump connector...
Product Announcement from Metraflex Company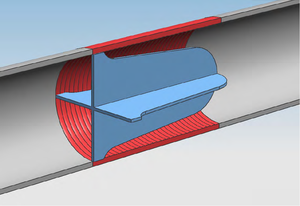 Free White Paper - Straighten flow, reduce turbulence in a fraction of the space.
New Vane Flex™ dramatically reduces pump turbulence and improves flow of your engineered piping system. A more compact, efficient solution to reduce turbulence and straighten flow, the new Vane Flex™ pump connector not only exceeds flow-straightening values recommended by all major manufacturers of balancing-type valves, it does it in a fraction of space.
Combining hydrodynamic-shaped vanes with a flexible pump connector, the Vane Flex maintains the full range of movement of a standard flexible connector, yet, at the same time and in the same space as a standard connector, provides better flow-straightening than a length of pipe equivalent to 5-to-10 diameters.
In addition, the Vane Flex provides the same stress relief and vibration in the same face-to-face as a standard pump connector.
---