Metraflex PoopLoop™ Joint for Sanitary Waste...
Product Announcement from Metraflex Company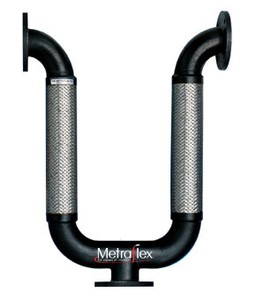 Metraloop Expansion and Seismic Joint for Sanitary Waste Lines
Slim down pipe designs and installations and protect piping from seismic movement, thermal expansion and building settlement with the trim, compact PoopLoop™ for waste lines.
The PoopLoop™ joint keeps your waste line trim and flexible. Lined to minimize sediment collection, these loops are designed with a clean-out "T" to facilitate servicing and to comply with most code requirements. Loop requires only 2 connections.
The loops are installed in the sewage lines as they exit a building foundation to allow for building settlement. They are also used in and outside the building to accommodate seismic movement.
The Metraflex PoopLoop™ joint for seismic, thermal and building movement has these benefits:
It is streamlined and simplifies design.
It takes up less space.
It needs just one support.
It takes less time to install.
It moves in every direction.
It is simply a smarter solution.
---