Anritsu Spectrum Master HH Spectrum Analyzer
Product Announcement from Microlease Inc.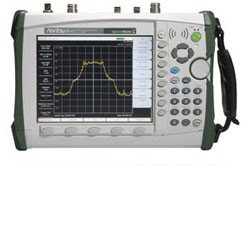 The Anritsu Spectrum Master is the most powerful handheld spectrum analyzer developed. The Spectrum Master is a small and easy to use portable spectrum analyzer with unprecedented measurement capability for applications in a wide frequency range from 9 kHz up to 7.1 GHz. It offers the fastest and broadest sweep times 10us (zero span) to 600 seconds and the highest input power capability to +43 dBm. Designed to conduct highly accurate analysis on the new wave of wireless signals, including 802.11a, 3G, ultra-wideband, and WiMAX. Weighing in at less than 7 pounds (MS2721B) and 4.9 pounds (MS2711D), this rugged, environmentally hardened unit at home on the engineering bench and in the field.
Key Features and Specifications
Over the Air Spectrum Monitoring
Over the Air Interference Analysis
Free Application Notes!
---